Despite most people thinking this generation of Lexus SC looks hideous, and I was one of them, but after spending time with this one, inside and out, I actually like it. I am not a huge fan of the Patrician Boulevard cruiser look to it, and would probably rather it look more sporty, but inside, it is well crafted and has an almost Bentley-look to it. Interior fit and finish is excellent, the convertible top mechanism seems to be extremely well-built, and overall build quality and attention to detail is typical Toyota/Lexus from this area, and that would be excellent! By today's standards, the 300-hp V8 seems a bit lazy and slow to 60, but power delivery is smooth and seemingly effortless. This car is less an off-the-line performer and more of a smooth and gradual accelerator. That said, despite the car sitting on low-profile tires, ride quality is smooth and controlled. Steering is almost BMW-esque in that when you turn the wheel, you know exactly where you are going. This car is in control without you believing it is in control. Fluid, effortless and commanding are how I would describe the SC. Exterior looks aside, I agree with Car and Driver Magazine; an "unqualified success" and called it "comfortable, fast, smooth and quiet" with "all the virtues expected in a patrician roadster."
Click the link to watch: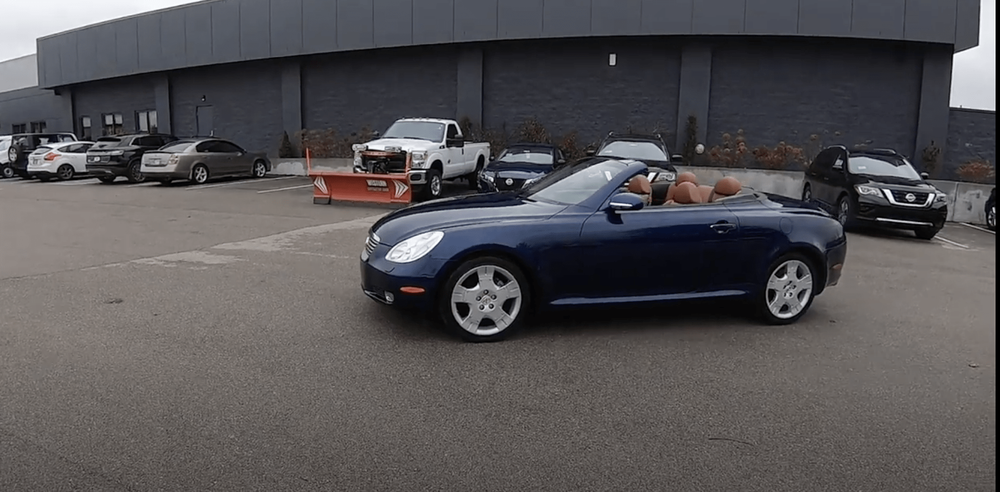 • 2004 Lexus SC430 Hardtop Convertible|...
Here, we are taking a detailed in-depth walk-around look at the interior and exterior of this 2004 Lexus SC430 Hardtop Convertible
*Units in Parenthesis indicate 2019 Dollar Equivalents.
Base Price: $62,575 ($85,245)
Total Options: $802 ($1,093)
Destination Charge: $625 ($852)
Total Price as Shown: $64,002 ($87,190)
*Price does NOT reflect current local offers, incentives, rebates or any other deal or sale. Please contact the appropriate dealership if applicable that's listed at the beginning of the video for more information.
Exterior Color: Indigo Ink Metallic
Interior Color: Black/Saddle Leather w/Burled Walnut Trim
Engine: 4.3L 32V DOHC VVT-i V8
Transmission: 5-Speed Automatic
Optional Equipment Shown On Vehicle:
Gold Package - $362 ($493)
-Gold Plated Badges
Rear Spoiler - $440 ($600)
*Please note that I am not employed by any dealership NOR and I selling any vehicle depicted on this page! All dealer info is shown at the beginning of the video along with contact information. If you have questions regarding price or availability, please contact the appropriate dealership tagged in the video!*
Neighborhood Car Reviews gives you an alternative look at the already impressive list of car videos that are online. What we do is a first-person walk-around of the car. We show features and details that are on the particular model being shown. Performance data, safety equipment and the like are usually not shown due to the already enormous amount of videos that cover the aforementioned topics.
We like to cover everything from classics to high-end and everything in between.