August 25, 1922 - November 5, 2013
Armand G. Virtuoso, of Henderson, NV, passed away peacefully, surrounded by his family, Tuesday, November 5, 2013, at the age of 91.. Born in Niagara Falls, NY on August 25, 1922, he was the son of the late Gaetano and Angelina (Ranalli) Virtuoso.. Armand grew up and attended local schools in Niagara Falls, NY.
Armand served in WWII as a private of the U.S. Army, was a decorated veteran and received a Purple Heart after being ambushed by German snipers.. On September 27, 1947, he married Carmela (Infantino) Virtuoso at St. Charles Church; they were married for 67 years. He worked at Olin Mathieson for 25 years. They moved to Las Vegas in 1972 where he owned and operated Niagara Upholstery until his retirement.. Armand was a devoted Catholic and a member of St. Thomas More Parish in Henderson. He was a Fourth Degree member of the Knights of Columbus Council #247. He enjoyed bingo, going to the casino, ballroom dancing, and most of all enjoyed being with his family..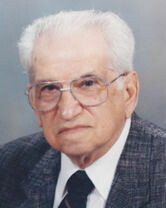 Armand is survived by his wife, Carmela of Henderson, NV; sons, Armand (Rosemary) Virtuoso of Henderson, NV, Dennis (Gina) Virtuoso of Niagara Falls, NY, Joseph (Carol) Virtuoso of Henderson, NV; his grandchildren, Gina, Nicklas, Dr. Armand III, Vincent, Joseph Jr., Michael, Dennis Jr. (DJ) and Sierra; his great-grandchildren, Nicholas, Joshua, Kaden, Fallon and Mason; his sister, Adeline Kilkenny of Niagara Falls; as well as several nieces, nephews and cousins. Armand was predeceased by his brothers, Alfred (late Frances) Virtuoso, G. Thomas "Guady" (late Laura) Virtuoso, Anthony (late Victoria) Virtuoso, Guido (late Elia) Virtuoso, Octavio (late Mary) Virtuoso, George Virtuoso; his sister, Rose Virtuoso.. Services were held at Davis Funeral Chapel, followed by burial with full military honors on Veteran's Day at Davis Memorial Park, Henderson, NV.. Visit www.niagara-gazette.com/obituaries for online guest register.
Published on November 16, 2013