Information from BJJ Heroes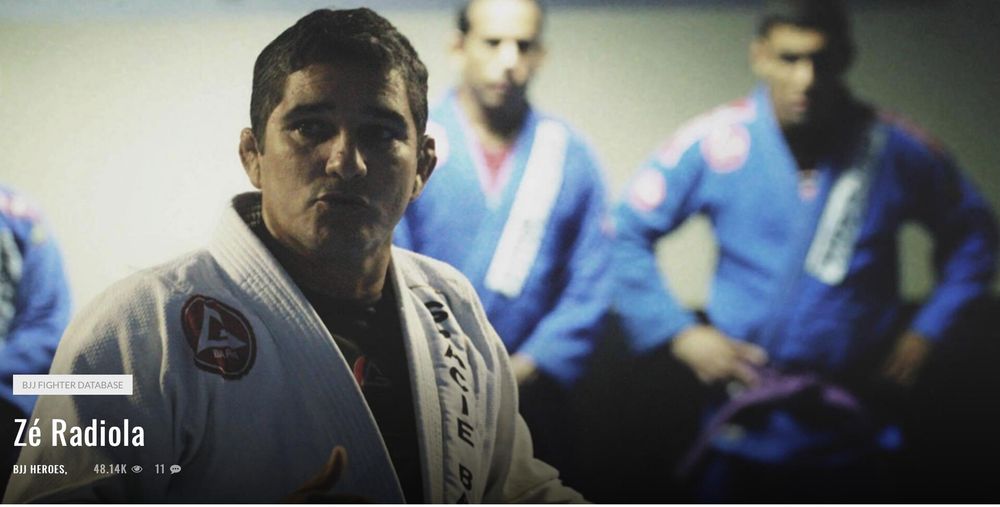 José Olimpio, commonly known as "Zé Radiola", is a former professional surfer who became a pioneering figure for Brazilian Jiu Jitsu in the state of Pernambuco – Brazil, having developed the most fruitful grappling academy in the region. A black belt under Carlos Gracie Junior, Ze Radiola became the leader of the Gracie Barra Pernambuco academy from which he spawned numerous jiu jitsu standouts including Braulio Estima, Victor Estima and Otavio Sousa. In 2016 Radiola left Gracie Barra to form his own academy: ZR Team.
Full Name: José Olímpio da Rocha
Nickname: "Ze Radiola", the word Zé is a short way of saying José, while Radiola means radio-gramophone. The name is associated with Olimpío because of a defect he has in his arm, which makes it bent in an awkward angle, this happened due to an accident Jose had as a child which never healed properly. The nickname started because people believed the arm resembled the arm (tonearm) of a gramophone.
Lineage: Mitsuyo Maeda > Carlos Gracie > Helio Gracie > Carlos Gracie Junior > José Olimpio
Main Achievements: n/a
Weight Division: n/a
Team/Association: ZR Team
Jose Olimpío was raised in Jaboatão dos Guararapes, close to Recife (capital of Pernambuco, Brazil). Growing up near the beach, Radiola became very familiar with the ocean and started Surfing, rapidly becoming a phenom in the sport and turning professional as a teenager (at one point he was one of the top 16 surfers in Brazil). He travelled a fair deal due to his surfing schedule and in one of these many travels he picked up the Brazilian martial art of Capoeira (where he later achieved the grade of Mestre/Master).
It was in Sao Paulo that Ze Radiola was introduced the Brazilian Jiu Jitsu. When he returned to Pernambuco (1996) he was a blue belt, but there were not many academies (if any) close to where he lived, so he decided to open one in a terrain that his father owned and called it "Free Style" academy. At first he asked Charles dos Anjos to be his senior instructor; Charles was more experienced and outranked Radiola.
In the meantime, Olímpio met Carlos Gracie Junior at a competition and invited the Gracie to give a seminar in Pernambuco. After the workshop, Radiola started making regular travels to Rio de Janeiro, to learn from Carlos and the team was branded Gracie Barra Pernambuco.
Charles dos Anjos eventually left the gym and moved to the United States of America, Ze Radiola took charge of the class as a purple belt at the time. Radiola's open heartedness soon made its mark in the team, his tenacity in trying to get sponsors for his competitors and the attention he dedicated to his students started reaping profits with several of his pupils making podiums in some of the most important tournaments in the world.
In 2016 after a few internal disputes between the Gracie Barra management and Olimpion, Radiola left Gracie Barra to form his own team – ZR Team.